Win prizes and interact with authors at the Deck the Bookshelves virtual holiday book market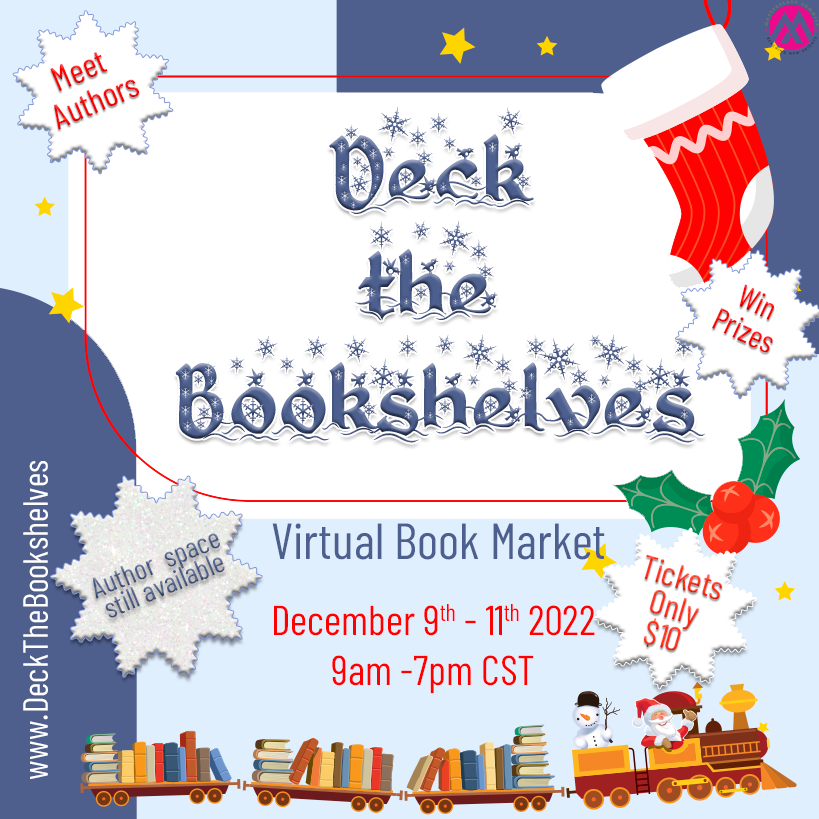 Saturday, November 12, 2022
READERS!  
Join us for a weekend of everything you love about the wonderful world of books. 
Not only can you meet and interact with the authors, with exciting games and contests throughout this 3-day book paradise, you can win unique prizes including gift cards, cherished books from your favorite author, and more 
Tickets for attendees are just $10.00.  
AUTHORS! 
Would you like to interact with readers at a holiday book market? We've created an opportunity to do just that at Deck the Bookshelves —a virtual market where authors showcase their books to readers looking to buy gifts or fill their own shelves— For 3 days, December 9th – 11th; 9am-7pm CST, authors will get to speak via video chat with readers motivated to purchase books of all genres. 
Included in the $25.00 Booth Fee: 
• Author access to the event for all 3 days to be in the booth to talk with attendees as little or as much as they are able. 
• Author affiliate payments on attendee tickets purchased through their personalized links. (Affiliate percentage is 25% of ticket price). 
• Event-branded virtual background for green screens. 
• Author inclusion in the attendee program showcasing authors.  Includes headshot, bio, social media channels, and scheduled times authors will be in their booth. Will be available to attendees and the general public (ad space available). 
No need to worry about selling tens of books to recoup your investment! With the low booth fee and affiliate payments, you could make your participation fee back with the sale of just 2 paperbacks. 
All participating authors must offer at least one discounted paperback book or promotion to be included. 
Get your elevator pitches ready so you can quickly tell booth visitors about your books and get ready to help attendees fill their bookshelves.