The Texas Center for the Book announces 2020 contest winners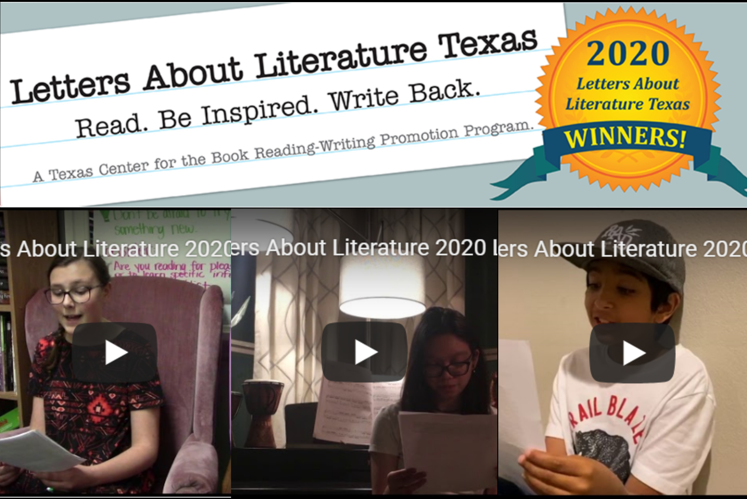 "This opportunity takes words off pages, creates a heart connection to story, and organically cultivates life-long readers."
Nine students have won in the 2020 Letters About Literature Texas competition, sponsored by the Texas Center for the Book at the Texas State Library and Archives Commission. This reading and writing program encourages fourth-twelfth graders to write to an author about how his or her book has affected their lives.
This year's Texas winners responded to a variety of authors whose works span diverse genres.
Level 1 (grades 4-6):
Avinash Kumar of Austin wrote to Marcus Emerson

Adelaide Cowden of Austin wrote to Laurie Halse Anderson

Nylah Qureshi of Addison wrote to Veera Hiranandani
Level 2 (grades 7-8):
Sarah Rose of Lubbock wrote to Wendelin Van Draanen

Elisa John of Edinburg wrote to Bruce Cameron

Jasmine Jeremiah of Austin wrote to Angie Thomas
Level 3 (grades 9-12):
Gabrielle Avena of Driftwood wrote to Hanya Yanagihara

Ella Johnson of Austin wrote to Gail Carson Levine

Cecilia Longoria of Mission wrote to John Green
The Texas Center for the Book received 1,317 letters this year from Texas students sharing their personal connections to literature. A total of 234 advanced to the third round of judging in Texas. Judges (including the publisher and managing editor of Lone Star Literary Life) scored the letters based on organization, idea development, language, and emotional connection. 
"Students made such profound connections with the written word," commented Rebekah Manley, Coordinator of the Texas Center for the Book. "This opportunity takes words off pages, creates a heart connection to story and organically cultivates life-long readers."
For a complete list of winners and their letters, visit: www.tsl.texas.gov/lettersaboutliterature/2020winners.