Re-imagining what art and sustainability for artists from underrepresented backgrounds could look like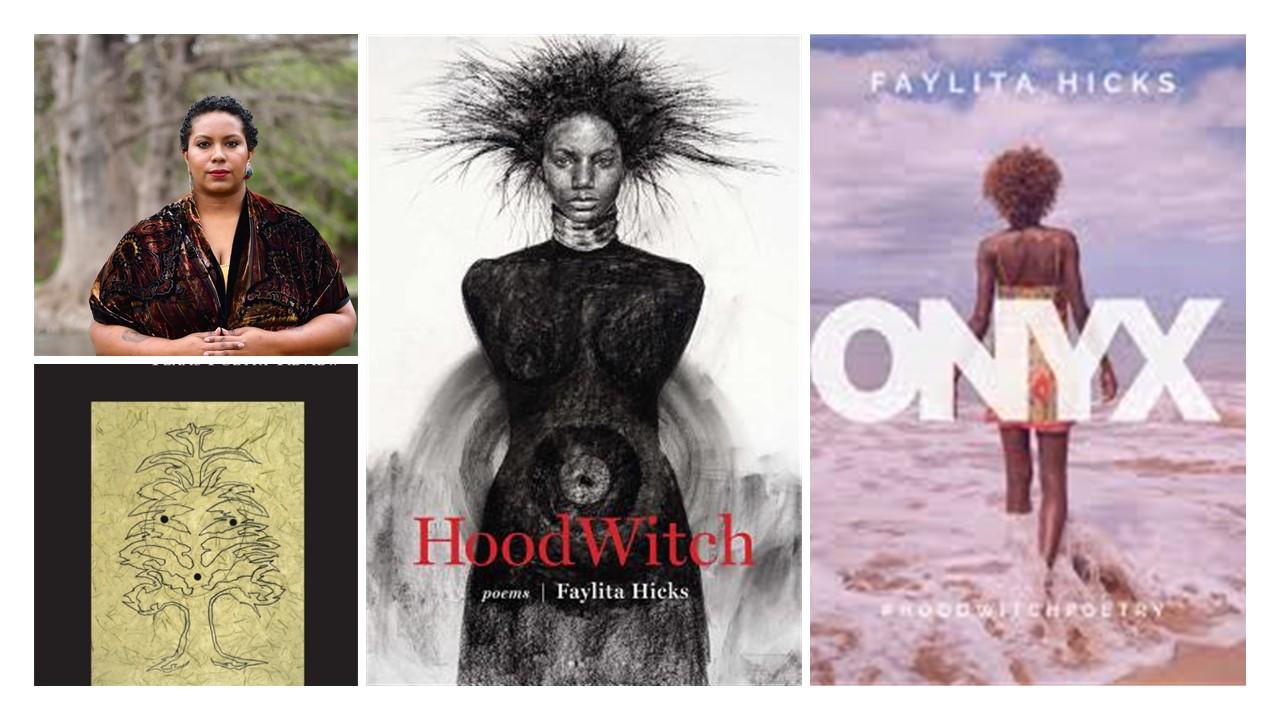 Sunday, December 15, 2019
"It's a long road, but I'm on it because I believe change is possible."
Lone Star Literary Life: Faylita Hicks, congratulations on the publication of your first poetry collection, HoodWitch (Acre Books), described as a "a reclamation of power … a collection about resilience," and which Jami Attenberg calls "visceral, riveting, and somehow both heartbreaking and empowering." You also released Onyx, a  spoken-word companion EP for HoodWitch. Please tell us about your book and your path to publication.
Faylita Hicks: HoodWitch is a documentation of personal experiences and a reflection on the detrimental experiences of Black womxn and femmes in the US. Onyx, a spoken word album released this past summer, includes my reading of several of the poems in the book. It includes music produced by a local artist in San Marcos, Texas. The book, which was published by Acre Books, a small press based out of the University of Cincinnati, is a debut collection featuring some of the hardest poems I've ever written.
How did you discover that you needed to be a writer, particularly of poetry? How do you know when inspiration needs to become a poem—or a photograph or a performance? How do you know what form a piece should take?
I originally wanted to be an actress. After some disheartening experiences as an actress, I moved to the Austin Poetry Slam in 2003. The weekly competition allowed me to hone my skills as both a writer and performer. By 2010, my heart moved to the page and the challenge of bringing the same intensity I had on the stage to the page. I still crave the stage, but writing has allowed me to open up in a way I didn't think previously possible.
Very often, I try to listen to intuition when it comes to the form an inspiration will become in a creative piece. There are some things that can only be said in a poem, some things that can only be shared with images, and some things that need to live fully on the stage. They each have their own designations.
Your work has appeared in many outlets, among them the Texas Observer, POETRY magazine, The Rumpus, Foundry, Prairie Schooner, Kweli Journal, the Cincinnati Review, Tahoma Literary Review, the Austin American-Statesman, Glass Poetry Press, and Matador Review. In addition, you are the managing editor of Borderlands: Texas Poetry Review. What strategies have proved successful when you submit your work? As an editor, how do you recognize work that must be published?
When it comes to publishing, I keep in mind several things:
1. Does my work fit the current editor's preferences? I read through their latest issues and present work that directly fits in with their mission statements. Not all work goes everywhere.
2. Is my work complete or would I be ready to publish it as is? Checking grammar, line breaks, themes, language and more—I determine whether or not I have put the editing work in before submission.
3. Is this the right time? Sometimes, a publication is looking for something particular and will so state on their website. I double check that my work fits their current needs.
As far as work that must be published—I look for poems that understand my journal's mission and look outside of themselves for inspiration. I tend to lean towards work that has invigorating language and clear messaging, but I always ask for feedback from my editorial team before making decisions. It is rarely a final decision I make by myself. Good writing and quality editing gets you bonus points!
You've been an artist on the roster of hip-hop collective Grid Squid Entertainment; you were a member of the 2008 Neo Soul Poetry Slam Team and the 2009 Grand Slam Champion of the Austin Poetry Slam, and a finalist in the Women of the World Poetry Slam Championship, among many other recognitions and achievements. How did you develop your voice and style? What is your advice for other poets who think they'd like to perform?
Performance is not purely about expressing oneself, it also about connecting with the audience in a genuine way. It is an opportunity to connect with others in a dynamic way—so stop focusing on what people are going to think about you and consider how you can give audiences just the thing they need to face this world. Can you give confidence? Or motivation? Can you let them know they are not alone? It's a give and take.
You are also a visual artist, working in mobile photography and mixed media. Your work has been exhibited in the Texas State University Gallery of the Common Experience, Insomnia Gallery in Houston, Dahlia's Gallery in San Marcos, Patio Dolcetto in San Marcos, and featured in Five:2:One magazine. Paint a word picture of your visual art for us, please.
Buried underneath pain and darkness is color and joy. My visual work, which very often has a dark undertone and gritty clarity, is trying to relay the inherent beauty of the black queer femme existence. Depression was a major component of my life for years, but after becoming a birth mother, I learned how to embrace beauty in the ugly. Much of the exhibited work documents what it's like to look out on the world from that place of pain and find something wonderful to focus on.
There are also a number of self-portraits, which find me in spaces surrounded by a dominant color or setting. This touches on the loneliness often felt by black queer people in certain spaces. Extremity of over-saturated colors and dark-focused subjects highlight how I've experienced the world post-incarceration.
In 2017, you were awarded the San Marcos Arts Commission Grant for your monthly event series, SMTX Ripple Market, which provided performance and exhibit opportunities to women, people of color, and those identified as LGBTQ-IA. Please tell us about your inspiration for the market and how it came about.
As a new business owner, I worked with a woman-owned coworking space called Splash Coworking. The guidance and mentorship of the owners helped me to reimagine what art and sustainability for artists from underrepresented backgrounds could look like.
I knew that every artist or performer who came through my market had some basic needs, which included: the need to pay for their travel, food, and shelter; guidance and promotion of their talents; and the support and access to additional resources for professional development. The market was developed to serve each of these needs directly. The idea behind The Ripple Market was to help artists move from "struggling" to sustainable living.
Since this is Lone Star Lit, I always ask what Texas means to writers and their work. Do you think Texas is any more or less welcoming of artists of color and/or identified as LGBTQ-IA? How have you seen this atmosphere change, for better or worse, since you've been writing and performing?
I love Texas. I want to make my final home here—but I also love to travel and visit other cities and states. Texas has a complicated history with black people and the LGBTQ community. Unfortunately, it has meant many people who look like me end up in the criminal system. I actively work with my organization, Mano Amiga, to combat those issues. My hope is that it will become more common for people of color and LGBTQ people to receive the dignity and respect they deserve in every county of the state. It's a long road, but I'm on it because I believe change is possible.
Which Texas writers and artists do you admire and why? How have these writers inspired your own work? Which other poets would you recommend to readers who enjoy your new book?
Some of the Texas poets at the top of my mind right now: Sandra Cisneros, Naomi Shihab-Nye, Cyrus Cassells, Mónica Teres Ortiz, Lupe Méndez, Eddie Vega, and a host of others.
Some poets and writers readers you should check? Eve Ewing, Linda Villarosa, Imani Perry, Danez Smith, Xandria Phillips, Oliver Baez Bendorf, Saeed Jones, Morgan Parker, Kiese Laymon, Nicole Shawan Junior, Jami Attenberg, Frank Johnson, Tiana Clark, Natalia Lima, Ada Limon, Rachel McKibbens, and too many more to name!
Can you tell us what's next for you and your work?
I'm already halfway through a second book of poetry. It's a look at how the climate crisis is impacting migration and, inadvertently, the carceral system's treatment of black and brown queer people. I'm pretty excited about it. I'm also working on a memoir-in-essays, which explores my journey from inmate to community organizer. Hopefully, I'll find a home for both projects very soon.
What books are on your nightstand?
How to Be an Antiracist by Ibram X. Kendi, A Warning by Anonymous, The Water Dancer by Ta-Nehisi Coates, Little Fires Everywhere by Celeste Ng
Faylita Hicks (pronouns: she/her/they) is a black queer writer. She received the Catapult's Inaugural 2019 Black History Month Workshop Scholarship and was a finalist in the 2018 PEN American Writing for Justice Fellowship, the 2018 Cosmonauts Avenue Annual Poetry Prize, and Palette Poetry's 2019 Spotlight Award.
The 2009 Grand Slam Champion of the Austin Poetry Slam, she was a member of the 2008 NeoSoul Poetry Slam Team and won several individual regional competitions. Her visual art has been exhibited in the Texas State University Gallery of the Common Experience and Insomnia Gallery in Houston and featured in Five:2: One magazine.
Faylita is the founder and creative director of Arrondi Creative Productions and an artist on the roster for hip-hop collective Grid Squid Entertainment. In 2017, she was awarded the San Marcos Arts Commission Grant for her monthly event series, SMTX Ripple Market, which provided performance and exhibit opportunities to women, POC, and those identified as LGBTQ-IA.
Her poetry and essays have appeared in or are forthcoming in Slate, Huffington Post, Texas Observer, POETRY magazine, Kweli Journal, The Rumpus, the Cincinnati Review, Tahoma Literary Review, Prairie Schooner, Lunch Ticket, Matador Review, and others.
She received her MFA in creative writing from Sierra Nevada College's low-residency program and lives in San Marcos, Texas. She is currently at work on a memoir. Hoodwitch, published in October 2019 by Acre Books, is her first poetry collection.