Twenty-Nine Texas Authors Win Thirteen Different Awards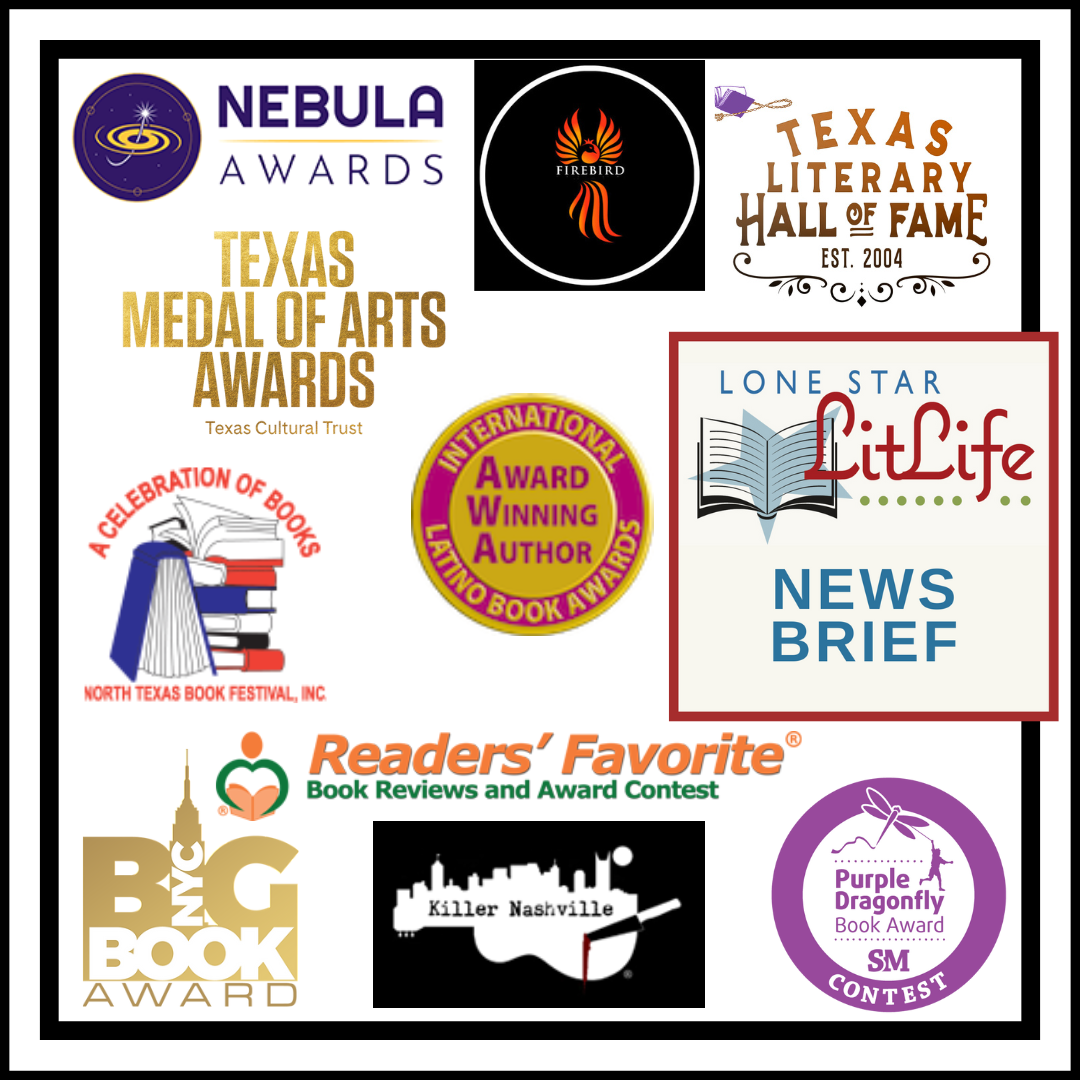 Saturday, September 24, 2022
We readers know our Texas authors are talented, so it's no surprise they just keep bringing home the wins. As of our last installment, Texan writers, authors, and poets have won awards at all levels. Let the virtual clapping commence.
A Snake Falls to Earth by Darcie Little Badger was awarded the Andre Norton Nebula Award for Middle Grade and Young Adult Fiction. The Nebula Awards® are voted on and presented by full, senior, and associate members of Science Fiction and Fantasy Writers of America, Inc. Founded as the Science Fiction Writers of America in 1965 by Damon Knight, the organization began with a charter membership of 78 writers; it now has over 2,000 members, among them many of the leading writers of science fiction and fantasy.
= = = 
Nobody's Pilgrims by Sergio Troncoso won the International Latino Book Awards Gold Medal for Best Novel- Adventure or Drama in English, and The Last Butterfly by Carmen Tafolla won the Silver Medal for the Most Inspirational Children's Book.  The International Latino Book Awards recognize greatness in literature by honoring authors, translators, and illustrators for their books written either in English, Spanish y Portuguese. 
= = = 
Deadly Keepsakes by Anita Dickason won awards for both Cozy Mystery and Cover Design categories in the Speak Up Talk Radio 2nd Quarter Firebird Book Awards. Entries into the Firebird Book Awards support women and children in long term shelters and are tax deductible to entrants. 
= = = 
Mia & Nattie: One Great Team by Marlene Bell won a 2022 Purple Dragonfly Award.  This book award contest is exclusively for children's books and includes 56 categories to help authors and illustrators garner attention.
= = = 
TCU Library and AddRan College of Liberal Arts and TCU Press Announced the Texas Literary Hall of Fame 2022 inductees, who will be honored at the official induction ceremony on October 19, 2022. This years inductees are:
ReShonda Tate Billingsley

Jerry Craven

Patrick Dearen

Tim Madigan

Jodi Thomas

Martha Wells

Richard Bruce Winders
The Texas Literary Hall of Fame was established to celebrate and encourage the state's rich literary heritage by honoring its foremost authors, whose original writing reflects enduring cultural relevance and artistic creativity. The Texas Literary Hall of Fame honors inductees every two years. 
= = = 
The winners of the 2022 North Texas Book Festival Awards are:
The First UniBear by Kathleen Shields (First place, Picture Books)
Gigi at the White House by Giovanna McBride (First place, Children 6-12)
Appointed Time (Sands of Time Trilogy, Book 1) by CJ Peterson (First place, Young Adult Fiction)
The Road to Me by Laura Drake (First Place, Adult Fiction)
Texas Oblivion: Mysterious Disappearances, Escapes and Cover-Ups by E.R. Bills (First place, Adult Nonfiction)
Hoaxes and Other Stories by Brian DiNuzzo (First place, Short Stories)
En Pie La Tierra by Auri Ascencio Uriostegui (First place, Spanish Poetry)
Las Queremos Vivas by Margarita Dager-Uscocovish (First place, Spanish Fiction)
The North Texas Book Festival raises funds, promotes literacy, and encourages family interaction that fosters reading and the love of books. 
= = = 
Mother of My Invention: A Motherless Daughter Memoir by Janice Airhart won the 2021 Minerva Rising Memoir Contest.  Minerva Rising, an independent literary press, celebrates the creativity and wisdom in every woman by giving them space to tell their stories and to tell them well.
= = = 
The Road Home (Lost in Austin series, Book 2) by Christina Berry is a 2022 Readers' Favorite Awards Gold Medal Winner in the Romance-Sizzle genre.  Readers' Favorite is a fast-growing book review and award contest site that has received the "Best Websites for Authors" and "Honoring Excellence" awards from the Association of Independent Authors.
= = = 
A Texas Christmas Carol (from Under the Texas Mistletoe) by Karen Witemeyer is a Carol Award Winner in the Novella category). The Carol Awards are ACFW's recognition for the best Christian fiction published in the previous calendar year.
= = = 
Benjamin Alire Saenz has been named the 2023 Texas Medal of Arts Awards Honoree for Literary Arts.  Since 2001, the TMAA have celebrated 118 Texas leaders and luminaries who have achieved excellence through their creative talents, as well as those whose generosity has opened doors to artistic opportunity for Texans of all ages.
= = = 
The Lives of Diamond Bessie by Jody Hadlock won first place, in Cross Genre Fiction in the American Book Fest Awards.  AmericanBookFest.com was launched in 2014 with the intention of becoming not only an online presence but eventually offering workshops and live events throughout the United States. 
= = = 
Arthur Herbert won two awards from the  NYC Big Book Awards:  The Bones of Amoret (Best Overall Western Fiction Novel) and Lockdown (Best Short Story Collection). The NYC Big Book Awards is for independently and traditionally published authors, publishers, big and small presses. 
= = = 
Three Texas authors won 2023 Killer Nashville Silver Falchion Awards:
Becki Willis (Bye, Buy Baby) and Jeff Abbott (An Ambush of Widows) tied for first place for Best Mystery
Lori Roberts Herbst (Suitable for Framing) won Best Cozy
The 2023 Killer Nashville Silver Falchion Award seeks to discover and honor the best books of 2022 (novels, novellas, collections and anthologies, and non-fiction) that incorporate the elements of mystery, thriller, and suspense in numerous genres or, in the case of nonfiction, books that are applicable to writers in general.
= = =