Lone Star Lit to moderate two panels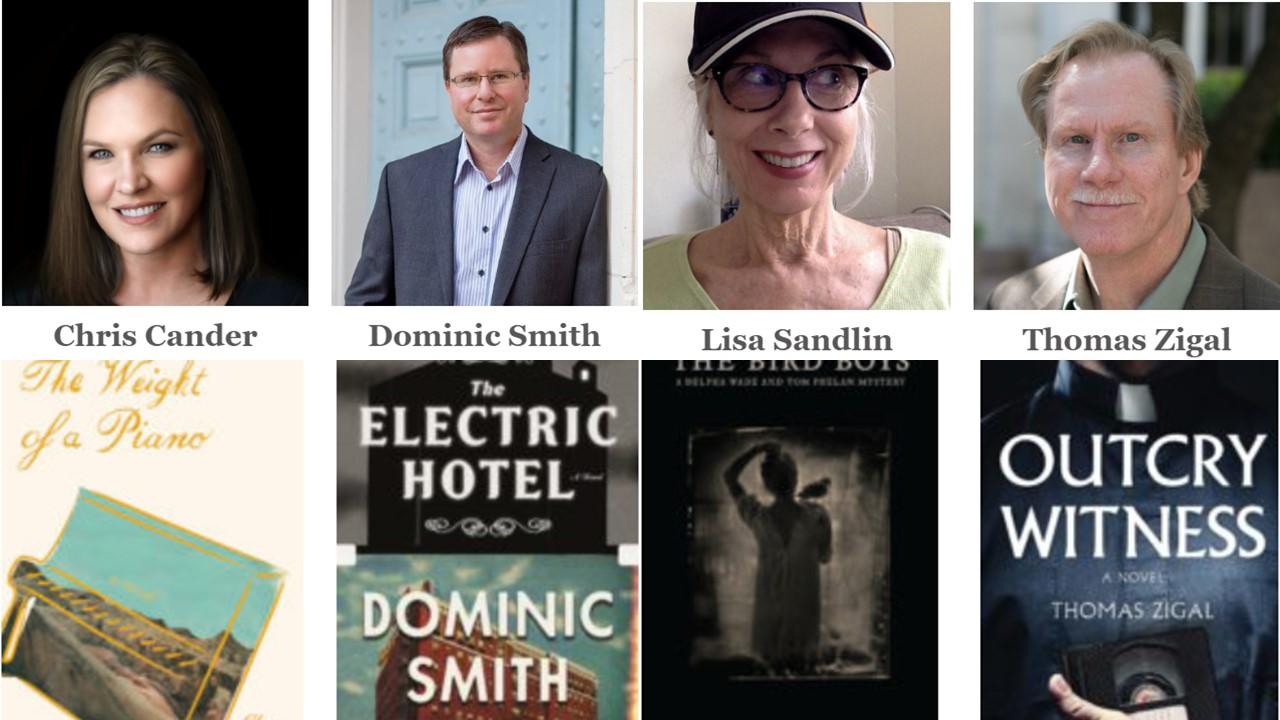 "We know the embarrassment of riches can be overwhelming, so my advice is to spend some time on our website. You'll find fun author Q + As and lots of ways to explore the authors, books, and panels to help you figure out your must-see Festival picks."
Texas Book Festival announced their 2019 schedule, which features more than three hundred celebrated and emerging authors in events spread throughout the grounds of the Texas State Capitol and along Austin's iconic Congress Avenue on October 26 and 27. The Festival Weekend features authors participating in readings, panel discussions, and book signings; cooking demonstrations at the Central Market Cooking Tent; the return of C-SPAN2/Book TV and Latinx Lit Tents; children's entertainment; a STEM panel track sponsored by Cirrus Logic; exhibitor booths; food vendors; and more. The complete schedule is available now at https://www.texasbookfestival.org/2019-festival-schedule/.
We at Lone Star Lit are delighted to be moderating two panels at the 2019 festival, both on Sunday, October 27.
Lone Star Lit Publisher Kristine Hall will moderate "Buried Truths: New Thrills and Suspense in Investigative Crime Fiction" with Lisa Sandlin and Tom Zigal: "In suspenseful new crime fiction, the sordid secrets of the Catholic Church are tracked down the dark alleys of New Orleans, and a victim released from prison uses old fashioned research and records to dig up long-buried truths. Lisa Sandlin (The Bird Boys) and Tom Zigal (Outcry Witness) discuss the process of writing meticulous, riveting plots, rich with unique settings and unforgettable characters."
Managing Editor Michelle Newby Lancaster will moderate "Pianos Keys and Film Reels: The Art Object as Plot Device" with Chris Cander and Dominic Smith: "In generation-spanning new historical novels, Chris Cander (The Weight of a Piano) and Dominic Smith (The Electric Hotel) thread a piano and a lost film reel through decades and characters, rooting readers in the tangible lives and long-term ripples of art objects. Fates loop together as past, present and future collide around these unique art forms and the burdens and desires they inspire in those who must find them."
"We have so many exciting and diverse topics for people to explore in this year's schedule," says Lois Kim, Executive Director. "We know the embarrassment of riches can be overwhelming, so my advice is to spend some time on our website. You'll find fun author Q + As and lots of ways to explore the authors, books, and panels to help you figure out your must-see Festival picks."
Schedule highlights on Saturday, October 26 include:
 11:00-11:45AM  In the Hands of Our Hubris: Human Behavior in the Face of Climate Change
Building mansions up to the edges of coastlines, disrupting the deserts for oil—short-term human goals consistently come up against the obvious and ongoing effects of climate change. In their new books, bestselling author and conservationist Terry Tempest Williams (Erosion), Pulitzer Prize-winner Gilbert Gaul (The Geography of Risk), and journalist Nathaniel Rich (Lost Earth) examine human hubris in the face of our environment's increasingly drastic cries for help—and its threats if our behavior doesn't change. Cirrus Logic STEM track.
Author(s): Gilbert Gaul, Terry Tempest Williams, Nathaniel Rich
Moderator: Juli Berwald, Author of Spineless
Location: C-Span2/BookTV Tent
1:30 - 2:15PM What Can We Do? Actions to Help the Crisis at the Border
Children in detention centers, ICE raids in cities across the country—what can we do in the face of these enormous issues? Immigration lawyer J. J. Mulligan Sepúlveda (No Human Is Illegal) and professor William Lopez (Separated) share specific actions we can take.
Author(s): J. J. Mulligan Sepúlveda, William Lopez
Moderator: Joy Diaz, Texas Stander Producer, KUT
Location:
3:45-4:30PM Toni Morrison: A Celebration
The legacy of Pulitzer Prize-winning writer Toni Morrison, author of such fundamental works to the literary canon as Beloved and The Bluest Eye, is deeply felt this year as we mourn her passing. Join writers Sarah M. Broom (The Yellow House), Saeed Jones (How We Fight For Our Lives), and Namwali Serpell (The Old Drift) as they remember and celebrate Morrison's life and singular work.
Author(s): Sarah M. Broom, Saeed Jones, Namwali Serpell
Moderator: Jennifer Wilkes, Associate Professor in English and in African and African Diaspora Studies at the University of Texas at Austin
Location: Capitol Auditorium
Schedule highlights on Sunday, October 27 include:
 12:00-12:45PM Fiction of La Frontera—And What Comes After
The lives of immigrants finding themselves in America and those with their eyes set on a new future over the border are at the center of new fiction by Sergio Troncoso (A Peculiar Kind of Immigrant's Son) and Gabino Iglesias (Coyote Songs). Taking different approaches to the experiences of people living at la frontera and beyond, Troncoso and Iglesias employ intimacy and grit in portraying the journeys, hopes, and desires of their characters before and after they cross the border.
Author: Sergio Troncoso, Gabino Iglesias                    
Moderator: Jorge Gomez
Location: Texas Tent
12:15-1:00PM Sunrise/Sunset: Remembering the Life and Work of Bill Wittliff
Bill Wittliff is one of our greatest Texas writers and filmmakers. We were deeply saddened by his passing earlier this year and are grateful for the tremendous body of work he created in his lifetime. Today, his friends and colleagues come together to celebrate his work, including his new book of solar photography, Sunrise/Sunset.
Author(s): William Broyles Jr., Elizabeth Crook, Stephen Harrigan, John Spong
Moderator: Steven L. Davis, Literary Curator of the Wittliff Collections
Location: Capitol Auditorium
For more information on the Texas Book Festival, please visit www.texasbookfestival.org and follow along on Facebook, Twitter, and Instagram @texasbookfest.