Lori Wilde has readers going wild for her Twilight, Texas series and other award-winning romance novels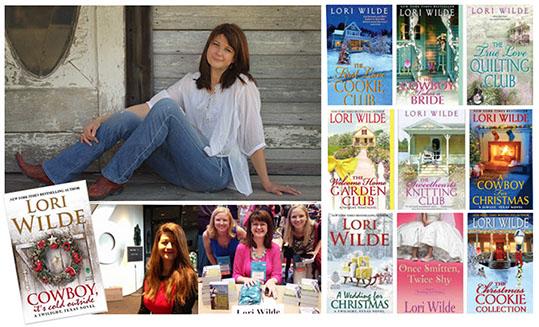 Lori Wilde is a New York Times and USA Today bestselling author of over eighty romance novels. She is a three-time RITA award nominee and a four time Romantic Times Reviewers' Choice nominee. Texans may remember that for three days in 2014, the city of Granbury declared itself to be Twilight, Texas, the setting of Wilde's novels, with scenes and reenactors from her books during the holidays. Since Wilde has written several books with a holiday theme, she seemed like the perfect author to kick off our 2017 season of celebrations and holiday books. She talked with us via email about when life imitates literature in Twilight, Texas.
LONE STAR LITERARY LIFE: Where were you born and raised, Lori, and how have the places you've lived influenced your writing?
LORI WILDE: I was born in Abilene, Texas. I lived there until the age of six, when my father's job as a journalist took him to Lubbock. We lived there for a year. Then we moved to Oklahoma and lived in three different towns. When I was nine, we moved to Fort Worth. We stayed there for three years and then moved to Stephenville. Finally, when I was fifteen we moved to Weatherford. I've lived in the Fort Worth area ever since. Moving around a lot was hard for this introverted kid. Books became my friends.
What authors did you enjoy reading growing up?
Mark Twain, Caddy Woodlawn, Laura Ingalls Wilder, Agatha Christie. Honestly, I would read just about anything I could get my hands on.
Did you always want to be a writer? When did you know that you wanted to be a writer?
When I was seven years old my father took me to a book signing. It was the first time I realized actual people wrote the books I loved. That was the moment I knew I was going to be a writer.
What was your first big literary break?
Winning a contest. The judge, who was an editor for Harlequin, asked to see my completed manuscript.
For our readers who are new to Lori Wilde, would you describe each of your series and which book would you recommend they start reading to get to know your work and storylines?
Twilight, Texas is a fictionalized version of Granbury, a quaint, tourist lake town. Although my books are a series centered around the town, you don't have to read the books in order. My first book that hit the list was The First Love Cookie Club. Readers might enjoy starting with that one. This is an ongoing series and I write a Christmas book set in Twilight every year.
Jubilee, Texas is a three-book series based in the world of cutting horses. It's loosely based on my hometown of Weatherford, the Cutting Horse Capital of the World. Start with The Cowboy Takes a Bride.
Cupid, Texas is a fictional amalgamation of the three Trans-Pecos towns — Fort Davis, Alpine, and Marfa. There are four books and a novella in the first Cupid, Texas series. Start with the prequel novella, One True Love. There is a now a new Cupid, Texas sub-series, featuring four ranching brothers called The Lockharts of Texas. The first book in that series, Million Dollar Cowboy, came out this year.
Stardust, Texas was my attempt at fictionalizing East Texas, and it was centered around a baseball team. It was meant to be a four-book series, but the sales didn't respond well to the East Texas and/or baseball setting, so there are only three books in that series. Back in the Game is the first book.
One of my older series is the Wedding Veil Wishes. This one is centered around a magical wedding veil that four best friends past to each other as each finds her happily-ever-after (along the lines of the popular Sisterhood of the Traveling Pants books). Currently, a TV producer is looking to option this series.
How has book publishing changed since you started?
Publishing has become far more democratic with technology. Anyone who wants to publish a book, can. Writers have more choices than ever before and so do readers.
Can you tell us about your latest book?
Cowboy, It's Cold Outside features Cash Colton, a country and western musician who has lost his muse after his girlfriend ran off with the drummer and broke up the band. Then someone stole the Gibson guitar his mother gave him on her deathbed. He's been in a funk for a year, but when he sees the heroine, Paige MacGregor, all the music comes flooding back.  Too bad for him, Paige has no intention of getting involved with a charming celebrity who could wreck the life she's struggling to rebuild.
What was it like back in 2014 when Granbury transformed itself into your fictional town of Twilight for three days? Can you tell our readers about that?
It was magical! The town even changed their name to Twilight for the weekend. I was serenaded by the mayor. Feted by the town. I got to see my characters come to life as people dressed as my characters and acted out scenes from my books. Receiving a key to the city was truly a crowning moment in my career. I've always loved Granbury, but now the town has a very special place in heart. I'm deeply grateful to Granbury for embracing me and Twilight, Texas.
What was the best decision you ever made in your career?
Making the move to HarperCollins. Avon books (the romance division at HarperCollins) and my agent, Jenny Bent, have made my career. If I hadn't gone with Avon, I would not be where I am today.
Is there advice you'd like to share with aspiring authors?
Understand that this is a journey and not a destination. Have goals, but don't live in those goals. Life is happening all around you. Live it. Embrace it. Then go write about it.
* * * * *
Praise for Lori Wilde's Cowboy, It's Cold Outside
"…A superbly executed contemporary romance. From the book's richly nuanced characters to its heartwarming small-town setting, each element plays off the others in perfect harmony. And when it comes to striking exactly the right balance between sweet and sexy, Wilde has the equivalent of perfect pitch."
—Booklist
"I thoroughly enjoyed this story and love this quaint town of Twilight and all its endearing characters." -
—Guilty Pleasures Book Reviews
"This is a truly fun Christmas story set in the small town of Twilight, TX. Twilight is the setting for an entire series of books . . ."
—Top Pick, Night Owl Romance Reviews
* * * * *