Amarillo's Linda Castillo takes readers inside the Amish community with her Kate Burkholder thrillers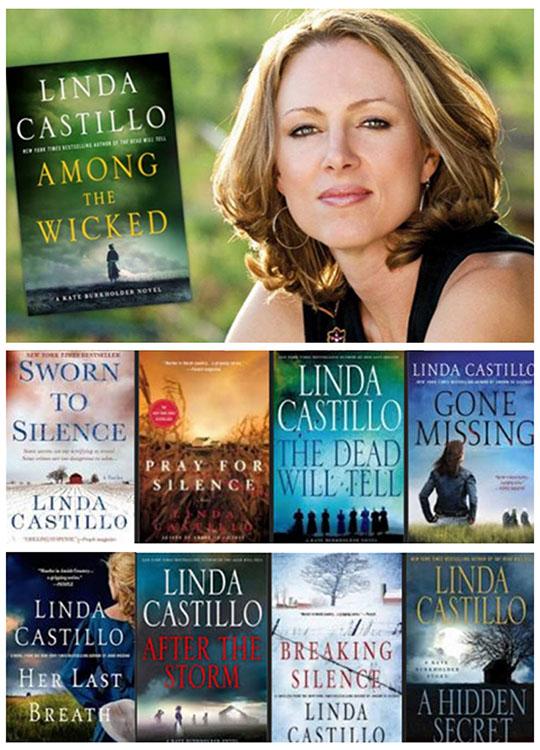 Linda Castillo is the New York Times bestselling author of the Kate Burkholder novels, including Sworn to Silence, which was adapted into a Lifetime Original Movie titled An Amish Murder, starring Neve Campbell as Burkholder. Castillo is the recipient of numerous industry awards, including a nomination by the International Thriller Writers for Best Hardcover, the Daphne du Maurier Award of Excellence, and a nomination for the RITA. She lives with her husband in the Texas Panhandle.
If you've ever wondered what it's like to look inside the Amish community, you should pick up one of Linda Castillo's Kate Burkholder novels. Through the author's fictional settings and circumstances, fans also enjoy insights into a quiet and private way of life. Castillo's protagonist, Burkholder, left the Amish community and is now a police chief in fictional Painter's Mill, and often finds herself investigating crime with a kind of understanding that only she has.
Amarillo author Castillo has written more than 30 novels, one of which was made into a movie starring Neve Campbell. We caught up with Castillo on tour somewhere in the Midwest with her latest novel, Among the Wicked (Burkholder goes undercover in upstate New York) to interview her by email, and despite a hectic schedule — we received her answers at 6:19 a.m. Saturday morning — she graciously made time to tell us her story.
LONE STAR LITERARY: You grew up in Ohio, Linda, and many of your books take place in Amish country, but you live in Texas these days. What brought you to the Lone Star State?
LINDA CASTILLO: I was born and raised in a small farming community in western Ohio. I grew up in farm country. I met my husband in 1985 and moved to dazzling Dallas, Texas. We currently live in the Texas Panhandle.
You've published thirty books for three New York publishing houses and won numerous industry awards, including a nomination by the International Thriller Writers for Best Hardcover, the Golden Heart, the Daphne du Maurier Award of Excellence, and a nomination for the prestigious Rita. But it's your Kate Burkholder series that offers a glimpse into the Amish world that seems to be the most recognized literary contribution of your career. How have you managed to gain such insights into the Amish community?
I'm a true believer in that a writer cannot write credibly unless he or she is at least knowledgeable [about] —and at best intimately acquainted with — his or her subject matter. This is particularly true with regard to writing a culture most people know little about. Researching the Amish posed a challenge. They are somewhat of a closed society. They are a mystery to many. Some of my knowledge comes from a couple of in-depth books written by scholars. But my most valuable knowledge comes from spending time with Amish families, in their homes and on their farms during research trips to Ohio.
Kate Burkholder, your protagonist in the recurring series, left the Amish community, and is really a strong persona and an outsider. Was she inspired by someone in real life?
Kate Burkholder is first of all born completely of my imagination. But on a deeper level she's a combination of many strong women that I've known throughout my lifetime. Women who's made an impression on me. Women I've admired. (Women much braver than myself!)
Sworn to Silence was adapted into a two-hour original movie retitled An Amish Murder. What was that like to see your characters and settings come to life?
It was incredibly exciting to see Kate Burkholder and the rest of the cast of characters brought to life in the form of a move. Neve Campbell was perfectly cast as Kate. Her real-life brother, Christian Campbell, was cast as Jacob, and they had such great sibling chemistry. One of the elements I particularly loved was the depiction of Painters Mill, Ohio. The movie was filmed in Toronto in the midst of a cold Canadian winter and captured that small-town feel. The producers did an excellent job with the Amish setting—very true to life—and that added a great deal of atmosphere and credibility. Absolutely loved the movie! The only thing that might've made it better is if I'd been there to see it in the works and the actors work their magic.
You graduated from two citizen police academies. How did that training inform your writing?
I love writing the police procedural aspect of the books and I very much enjoyed attending the two citizens' police academies. Police procedure is one of the elements that a [crime] writer must know well in order to write with credibility.
What was your first big break in writing?
I've published thirty books since 2000. My break came when I sold the first book in the series, Sworn to Silence, to my wonderful publisher, Minotaur Books. Readers responded with astounding enthusiasm. As a writer, I fell in love with the characters and the locale of Ohio's beautiful Amish country and the fictional town of Painters Mill.
What is your creative process like?
I'm a plotter. I like to plot the books from beginning to end and then begin the writing process. That's not to say the story doesn't change along the way—it usually does. If a better idea or unexpected twist occurs to me as I'm writing I go with it, and I believe the books are better because of it. I usually write in the morning, and sometimes in a local coffee shop.
Tell us about your latest book, Among the Wicked.
I loved writing this book. Anyone who has read the series knows that Chief of Police Kate Burkholder was born Amish and left the fold when she was eighteen years old. As a writer, her roots, the culture she was born into appealed to me very much. Since beginning the series I wanted to find a way to put her back into the life she left behind. With Among the Wicked, I achieved that when Kate is called upon by law enforcement in upstate New York after a young Amish girl is found frozen to death in the woods. The rumor mill boils with disturbing accounts of children in danger, and they need someone to get inside the community. The sheriff's department asks Kate to go deep undercover and infiltrate this secretive and mysterious Amish community. In the coming days, she unearths a world built on secrets and deception and the kind of danger she never imagined.
What advice would you have for aspiring writers?
Read everything. Write every day. And never, ever give up.
What's next for Linda Castillo?
I'm currently working on the next installment of the Kate Burkholder Amish thriller. I also have a standalone thriller in the works, and I'm very excited about both projects.
* * * * *
Praise for Linda Castillo's SWORN TO SILENCE
"A gun-toting, cursing, former Amish female chief of police stars in this excellent first in a new suspense series from romance veteran Castillo (Fade to Red). When a serial killer strikes bucolic Painters Mill, Ohio, the killer's signature—Roman numerals ritualistically carved into each victim's abdomen—matches the MO of four unsolved murders from 16 years earlier. Police chief Kate Burkholder, who's reluctant to dredge up the past, must keep secret that she knows why the old murders stopped. Not satisfied with the case's progress, local politicos set up a multijurisdictional task force to assist, including a law-enforcement agent battling his own demons. The added scrutiny and the rising body count threaten to push the chief over the edge. Adept at creating characters with depth and nuance, Castillo smoothly integrates their backstories into a well-paced plot that illuminates the divide between the Amish and English worlds." —Publishers Weekly, starred review
"Ohio's Amish country serves as the bucolic backdrop for romance novelist Castillo's consistently chilling mystery debut. Kate Burkholder grew up in idyllic Painters Mill, where many residents drive buggies, shun electricity, and distance themselves from the complications of modern life. The presence of a serial killer shatters the stillness of the town, leaving its citizenry terrified and on guard. During this time, young Kate's life takes a fateful turn when she is sexually assaulted by an Amish man named Daniel Lapp. She shoots Lapp in self-defense and, seeing blood splattered across the floor, is certain he's dead. (Her father drags away the body, and the family banishes the incident from their memories, never reporting it to police.) With Lapp's demise, the area murders cease. Rattled residents rest easily once again. Fast-forward 16 years. Kate, now chief of police in Painters Mill, is faced with a series of brutal crimes in which the female victims are tortured and raped. Could Daniel Lapp still be alive? Kate battles her inner demons as she tracks down a killer who shows no sign of letting up. Can she come clean about her past without losing her job? Deeply flawed characters in a distinctive setting make this a crackling good series opener, recommended for fans of T. Jefferson Parker and Robert Ellis, whose books take place in very un-Amish settings but who generate the same kind of chills and suspense." —Booklist, starred review
"This debut mystery introduces Police Chief Kate Burkholder of Painters Mill, OH. Kate grew up in that Amish community but abandoned her heritage after a traumatic event in her teen years. Now she's back, using her Amish background to navigate between the two factions in the community. Her hard-won equanimity is shaken when the body of a young woman is found. The murder appears to be nearly identical to a series of killings from 16 years ago, though Kate knows that it can't be the same person. As successive murders follow, she is forced to walk a tightrope between running a good investigation and protecting herself and her family. Sworn marks Castillo's move from romantic suspense to straight mystery, and judging by this novel, the move is a good one. Though the ending feels a bit rushed and serial killers abound in crime fiction today, this is very well done. The small-town setting, complicated relationships among the inhabitants, and the strong but battle-scarred protagonist bring Julia Spencer-Fleming's series to mind. Highly recommended for all libraries." —Library Journal
==